Insulation Services
As one of India's leading companies offering Insulations Solutions, Citizen Group have reigned 'Supreme' as Technology Leader for 15 Glorious Years.
Thermal Insulation
Citizen Group India Limited is THE largest organization in Industrial Thermal and Acoustic Insulation contracting company in this part of the world. We have been associated with every major project executed in India in the Industrial and commercial sectors for over 15 years. Our Leadership status and Industry Expertise in this is responsible for our being Market Leaders with over 70% market share.
Thermal Insulation plays an important role in every Process / Manufacturing plant from view point of "Energy Conservation". In applications like hot / cold insulation properly designed "Insulation System" can achieve any of the targets set through a focused "Energy Conservation" program implementing the designed insulation system through scientific erection practices at actual work site is the key to achieving these goals. Our experience of more than 50 years in this field has taught us a number of Do's and Don'ts imparting unbeatable application expertise to our site personnel.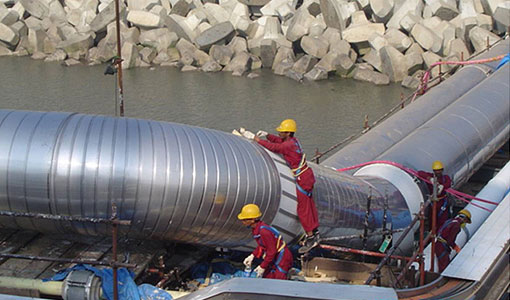 Building Insulation
Energy efficiency in buildings is achieved through a multi - pronged approach involving adoption of architectural principles responsive to the climate of the particular location by combining efficient insulation with robust structural design. Implementation of energy-efficiency in building systems is almost entirely dependent on effective Thermal Insulation of the building envelope.

Translation of optimum architectural design in the Indian context therefore poses a major challenge in proper choice and deployment of Insulation, Vapour retarder, Weather protection and aesthetic finishing.

Design of energy efficient envelope is a matter of deep understanding of Building Physics and thorough knowledge of Materials Sciences. Lloyd Insulations have led from the front in these branches of science.